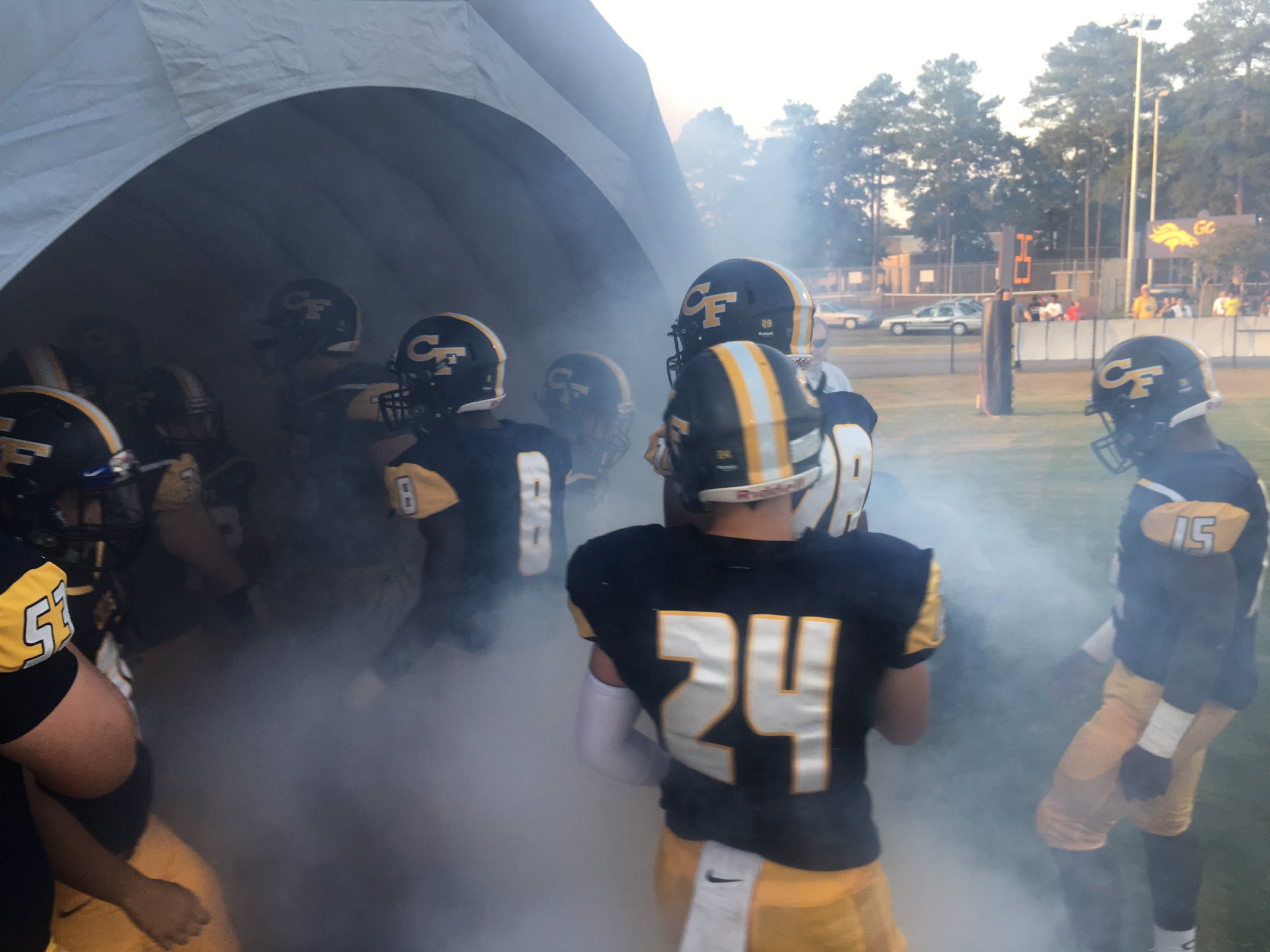 The Colts defense bent, but did not break, and held Overhills' high powered air raid offensive to a season low 13 points. Meanwhile, the Colts offense exploded for 480 rushing yards, coming out with a 39-13 victory over the Jaguars.
"We knew we would be tested in the secondary," said Coach Thomas. "We knew we had to bring some pressure.
"(Overhills QB Chris Perkins) is used to just being able to sit back and throw the ball so that was a different look for him. Just staying disciplined in our coverage."
After the first quarter, the game was tied 7-7 before the Colts rattled off 32 straight points over the next three quarters to make the score 39-7.
Overhills responded with an 88-yard touchdown from Perkins to Ansell Warren in the fourth quarter, but it was too little too late for the Jaguars.
"I thought we executed pretty well in all three phases," said Coach Thomas. "We ran the ball really hard, and we got multiple backs in there that all ran effectively. That tells you the offensive line is doing something when every guy that touches the ball does well carrying it."
The Colts ran by committee with three different backs finding the end zone and three different backs rushing for 100 yards.
Junior running back Cayden Mckethan crossed into the endzone three times and totaled 135 yards on 15 carries. Senior Nick Minacapelli and Junior Aumarion Ross found the end zone once each. Juniors Tyree Kirk and Aumarion Ross also had big nights on the ground rushing for over 100 yards each on fewer than 11 carries in relief of Mckethan.
Cape Fear also executed well on the other side of the football.
"Defensively again, I think they did a good job of pressuring the quarterback," Coach Thomas added. "I wanted to get some more interceptions off that because of how much they throw. We weren't able to do that but we were able to force some bad throws."
Junior quarterback Chris Perkins carried the load for the Jaguars accounting for 254 passing yards and 2 touchdowns, equalling more than their total yards of 248 due to negative 6 rushing yards thanks to the effective Colts blitz.
Cape Fear's win was a quintessential team effort with every position group stepping up and doing their respective jobs.
"Micah Nelson stepped up big for us defensively," said Coach Thomas, pointing out those who stood out in his eyes. "He moved from safety to linebacker. I thought he did really well.
"Offensively, there were a lot of guys that stepped up for us," he said. "Cayden obviously. Tyree had some big runs and the offensive line played well."
Other key contributors where Nick Minacapelli who basically lived in the Jaguars backfield all night with multiple sacks and tackles for loss on top of a rushing touchdown.
Aumarion Ross and Jaleel Parks were key in relief of Mckethan and helped move the Colts into the redzone on multiple drives. Mason Smith also had a great game notching a 25 yard field goal and converting all of his four extra points.
Even in the best of wins there is always room for improvement in Coach Thomas's opinion.
"I would like us to improve a little more in the passing game," he said. "There were some alignment issues that we messed up on so we got to fix those. Those are very fixable things."
Coach Thomas thinks the success on Saturday night will translate to a great week of practice and hopes to carry the momentum into next week's game.
"I think it's easy just believing in the process," said Coach Thomas. "One day at a time. Guys competing everyday for the good of the team and that will help carry this win into next week as we get ready for Grays Creek."
The Colts will be back in action on October 4 at Grays Creek in hopes of revenging last years 20-16 loss to the Bears.