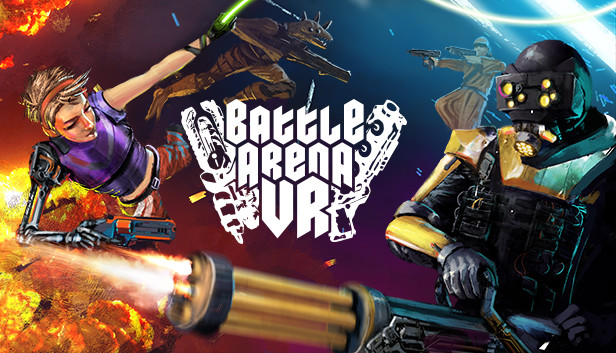 By:Dorrian Redding
Battle Arena VR is a free-to-play VR first person game with a developing team that values the opinions of the player base. They release updates every week, usually fixing bugs and adding new features. There's a variety of items the players can pick up and use, each with unique advantages and disadvantages. Players can even start holding three weapons and can pick up more during combat!
The game has a handful of features unique to it, such as the ability to grapple onto objects from any distance. Although fighting other players is suggested, it is not necessary, as players can fight AI (computer generated enemies) instead. There are new challenges added each week, some of which have prizes. The game is free to play on steam/oculus.
There are weekly tournaments that allow players to fight each other one on one for the same types of prizes as the weekly challenges. Some of the best players in the game participate in this tournament, which is the perfect opportunity to prove their skills. The members of the community can talk to each other on the game's discord server, run by the developers of the game. The winners can deny the prize for it to be added to the prize of the next tournament/challenge.
The game currently uses less than 1GB of space, since the graphics of the game are low poly. Although they're low poly, they have a charm unique to the game and have no visual bugs. The sounds of the game are amazing and fitting to the weapons and scenery of the game. Although the sounds and graphics of the game are amazing, they're under constant improvement, just like the rest of the game.
The game can be found here.